Control Vs. Approval
by Eric Casaccio
Sometimes in life, we may end up surrounding ourselves around certain personalities requiring complete control.  In fact, those involved with controlling types may develop a consistent need for validation or even approval.
Quite often, a controlling persona begins with a charm that's so hard to resist. These friendships, working relationships, family members, and romances are usually presented with ideal moralistic vibrations representing "a wonderful addition" or even a "dream come true" … representing being the keyword.
Time and time again, this dynamic and/or attraction triggers connections between narcissists and sensitive personas (i.e., empaths). The sensitive one often seeks to please narcissistic personalities while narcissists enjoy gas lighting and self-projecting manipulative tactics absorbing the empath into a false sense of worthlessness.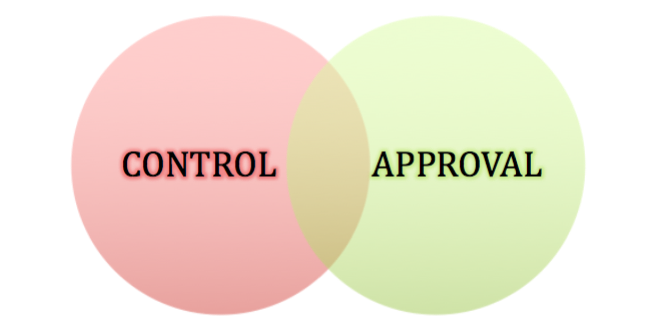 The sensitive one can also experience the fear of abandonment and not being loved producing approval needs that often are attempts or even means for control.  Unfortunately, this keeps empathetic types engaged with narcissistic personalities feeding them power and opportunity for further control because narcissists have an insecure need to always be right and win.
Yes, both dynamics can lead the sensitive to a horrific state of mind, …  horrific until discovering an empowering chance to overcome and move forward.
Here are powerful questions that may help you move forward:
What is it about you that may have a validating need for approval and/or desire for complete control?
Could you imagine your life with no need for control and/or approval?  If so, what would that be like or even look like?
What kinds of actions can you take right now to lessen your need for control and/or approval? How can you apply that action into your everyday life?
Now Your Life strives on utilizing original coaching models combined with empathetic powerful questioning to bring clarity, awareness, motivation, and enlightenment within each session.  We are virtually available worldwide and happy to answer any questions you may have about the Control Vs. Approval model as well as the entire Empowerment from Narcissistic Situations Program.
To schedule a free 20-minute consultation:   https://nowyourlife.com/free-life-coaching-session/
For more information visit:  www.nowyourlife.com
Always remember, sometimes you have to go through darkness to find a true authentic light.
Live. Learn. Grow. Love. Peace.
Eric Casaccio 
Now Your Life
© 2016 EPC Productions, LLC – Now Your Life, All Rights Reserved