Awareness of Narcissistic Abuse Gains Further Momentum
by Eric Casaccio
Los Angeles native and psychotherapist Bree Bonchay gears up for the second annual World Narcissistic Abuse Awareness Day on June 1st, 2018.
Founded by Bonchay in 2017, the day was established to bring enlightenment to survivors and raise awareness about narcissistic abuse.
So, what is narcissistic abuse? In general, it's a dynamic where magnetic individuals enter empathetic people's lives with a charm that's impossible to resist. As time passes, the person with narcissistic personality disorder charms the kindhearted one until they gain complete trust and soon after, the emotional abuse begins.
"I don't think there is any better beginning with a narcissist. They are great relationship starters, but the rest of the relationship is hell," Bonchay says. "They're able to figure out people's sensitivities, and then they're able to manipulate them in a way that makes them feel guilty, makes them feel bad, makes them feel less than." Narcissists use and abuse their victims until they feel like everything is their fault and then devalue and discard them as if they are a useless piece of trash.
"It's very real. It's trauma. It's like any other trauma."
– Bree Bonchay
Bonchay herself experienced post-traumatic stress from a toxic romance with a narcissist. Upon healing, she researched the latest Diagnostic and Statistical Manual of Mental Disorders and concluded that 158 million people in the United States had been affected by narcissistic abuse. "It's very real. It's trauma. It's trauma like any other trauma. All the symptoms if somebody were to experience like a car accident that can be very traumatic. This is no different. People have the same symptoms that people with car accidents have; people have been held up at gunpoint have. Narcissistic abuse is like a soul rape," says Bonchay.
Bonchay questioned why such a widespread, destructive phenomenon wasn't more well known. "I wanted to make a dent somewhere that might have an impact and use my voice in a way that might not just add to what's already out there, but maybe go in a direction that people aren't going in as much." Last year, she certainly succeeded with that impression.
Bonchay's initial idea of creating World Narcissistic Abuse Awareness Day (WNAAD) came to fruition two months before its launch date. In no time, her labor of love gained momentum with online communities and professional speakers from all over the world. On June 1, 2017, people tuned in to a live stream as well as a pre-recorded virtual summit of reputable thought leaders and speakers to discuss the factual reality of narcissistic abuse.
Even social media followers enhanced the WNAAD movement with the Twitter hashtag #IfMyWoundsWereVisible representing the inflicted pain of the abuse itself. "It's completely invisible. You can't see it. It's hard to describe. It's extremely hard to describe, and most people who are experiencing it don't even know what they're experiencing is emotional and psychological abuse," Bonchay says. "It's so under the surface. It just feels so much more of a betrayal since you can't put your finger on it and it assaults who you are and your identity and your beliefs and your reality. It feels like the worst kick in the gut."
Ironically, on Facebook and Twitter alone, there are dozens of narcissistic abuse pages, forums, and support groups with immense followings like After Narcissistic Abuse – There is Light, Life & Love. It's the commonalities of the narcissistic abuse victims online who brought this topic to surface globally. Bonchay is ready to expand upon this even further this year. "If you can turn your negative experience and transform it into something positive, that's a healing thing right there."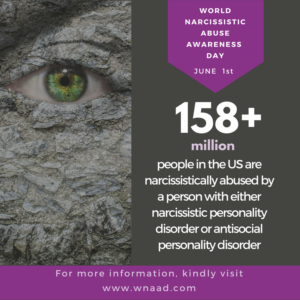 With the future of WNAAD, Bonchay hopes to enhance recognition of narcissistic abuse as an actual clinical diagnosis and have it taken into consideration seriously in a court of law. "I think the most difficult challenge is trying to get it into the mainstream. It's great that we all support it, and we're behind it, but the challenge is just getting it to cross over into the mainstream so we can educate people who possibly haven't experienced it and haven't found their way into the community yet."